Inside Out: 5 Personas of Email Marketing
Marketing journeys will have various stops along the way. Sometimes one emotion will weigh in more than another. It's an important balance we all need to learn and maintain. As we mentioned in our session, set it and forget is not a recipe for success. Revisiting your documentation with your expected results and assumptions outlined goes a long way to reaching ParDomination.
Process/Journey Mapping
While there are many questions, it just takes one decision to get you started. Your steps do not need to be big but in the right direction.
Automation
Just because you can, doesn't mean you should automate everything. Automation should be leveraged to free up your amazing team from highly stable and repeatable processes so that they can focus on important tasks that cannot or should not be automated.
Testing
While it may seem self-explanatory to you, your customers see your marketing with rose colored glasses. So testing will illuminate where you have made assumptions and get you closer to understanding your market.
Analytics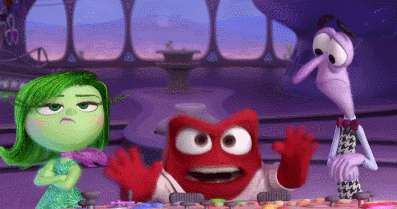 Everyone would love to jump straight to amazing ROI and validation of our KPIs. However, that rarely falls into place perfectly from the start. That's why it's important to take the first step in setting your goals early so that they can be evaluated and determine whether they are reliable benchmarks and identify your KPIs.
Documentation
Often forgotten, this will be your saving grace to see the forest when you have been in the trees. Taking time to transcribe the who, what, when, where, why, and how can save you pain & heartache when your memories go to long term storage.
Summary
The take away here is that, like the plot of the movie, the 5 emotions of email marketing are most effective as a collaborative team. Sure, there are moments when one must step up for a moment, but overall, it's teamwork that makes the dream work.
Resources